The biggest night for Pasifika music the Pacific Music Awards – NZ took place at the Vodafone Events Centre last night with a live online ceremony.
The event delivered a visual and musical spectacle, opening the ceremony with a powerful tribute by Oceans Before Me. The group paid homage to the Polynesian Panthers who celebrated their 50th anniversary this year.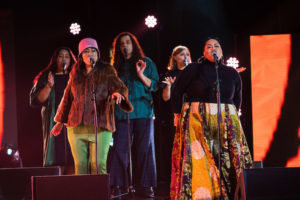 Oceans Before Me Perform at the Pacific Music Awards 2021 held at the Vector Events Centre. (Photo credit: James Ensing-Trussell/Stijl)
With Diggy Dupé, Church & AP and MELODOWNZ as nominees, the 𝐁𝐚𝐬𝐞 𝐅𝐌 & 𝐈𝐬𝐥𝐚𝐧𝐝 𝐁𝐚𝐬𝐞 𝐁𝐞𝐬𝐭 𝐏𝐚𝐜𝐢𝐟𝐢𝐜 𝐇𝐢𝐩 𝐇𝐨𝐩 𝐀𝐫𝐭𝐢𝐬𝐭 award was always going to be a tough one to award however MELODOWNZ emerged victorious. Dedicating his award to those battling mental struggles "All of us have been going through something, obviously because of the pandemic. I know a lot of people out there are suffering silently; this is for them." He also took out the Best Pacific Male Artist Award also for his single 'Fine'.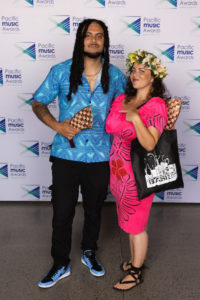 Best Pacific Album Award was awarded to Tree for the album 'Mrs Tree' and Best Pacific Female Artist Award was Lou'ana for 'Moonlight Madness'. Best Pacific Group was picked up by Team_dynamite for 'Dragon Fruit' and the Best Pacific Song Award was non other than Jawsh685 and Jason Derulo for 'Savage Love.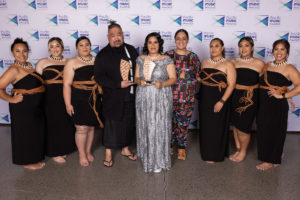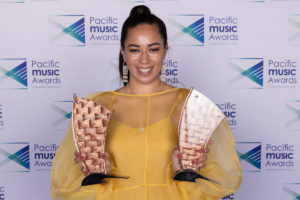 A HUGE CONGRATULATIONS TO ALL FINALISTS AND WINNERS!!
Relive the magic ✨  and WATCH the Pacific Music Awards 2021
2021 Pacific Music Awards Winners
Auckland Council Best Pacific Female Artist:
WINNER: Lou'ana – Moonlight Madness
Jordan Gavet –

'Do Better' 

Tree –

Mrs Tree
NZ Music Commission Best Pacific Male Artist:
WINNER: Melodownz – 'Fine' 
Hawkins –

'Can't Leave It Alone'/'Streetlights'/'Fireflies'/'I Couldn't Tell It All'

Kings –

'Help Me Out'
Flava Best Pacific Group:
WINNER: Team Dynamite –

'Dragon Fruit ft. Louis Baker'

Church & AP –

At Thy Feet

Shepherds Reign

– 'Aiga'

STNDRD –

Keep it STNDRD
NZ On Air Best Pacific Music Video:
WINNER: Tree – 'Afio Ane Loa'

Directed by Tree Manu & Quincy Filiga

Kings –

'Help Me Out'

Vallé

– 'Trip Advisor' 

Directed by Jadon Calvert
APRA Best Pacific Song:
WINNER: Jawsh 685 –

'Savage Love (Laxed-Siren Beat)'

Written by Joshua Nani, Phil Greiss, Jason Derula, Jacob Kasher Hindlin

Kings –

'Help Me Out' 

Writen by Kingdon Chapple-Wilson, Matt Sadgrove, Sam Eriwata, Joel Latimer

Team Dynamite –

'Dragon Fruit ft Louis Baker' 

Written by Tony Sihamau, Lance Fepuleai, Harry Huavi, Louis Baker
SunPix Best Pacific Language:
WINNER: Shepherds Reign – 'Aiga' 
Loopy Tunes Preschool Music –

'Umukisia'

Samson Squad –

'Taviri/Manea/Te Kuki Airani'

Tree –

Mrs Tree
Base FM & Island Base Best Pacific Hip Hop Artist:
WINNER: Melodownz – 'Fine'
Church & AP –

At Thy Feet

Diggy Dupé –

That's Me, That's Team
Best Pacific Soul/R&B Artist:
WINNER: Lepani – In the Moment EP
Emily Muli –

'Self Care'

Lou'ana –

Moonlight Madness
One Love Best Pacific Roots/Reggae Artist:
WINNER: Victor J Sefo – 'My Everything'/'Is It Bad'/'Want To'/'Like' 
Lomez Brown –

The Feels & Groove EP

Raggadat Cris –

'Nay Sayers'
531pi Best Pacific Gospel Artist:
WINNER: Marley Sola – 'Lift Your Head High'
Erakah –

'How You Love Me'

TY –

'Never Too Far'/'Drive' 
Niu FM Best International Pacific Artist:
WINNER: Tenelle – 'This Is X'
DJ Noiz –

'Amelia ft Kennyon Brown, Donnell Lewis, Victor J Sefo'

J Boog –

'Siva Mai feat Siaosi'

Mr Cowboy –

'Daddy Toe Sau' 
Recorded Music NZ Best Pacific Music Album:
WINNER: Tree – Mrs Tree
Lepani –

In the Moment EP

Lou'ana –

Moonlight Madness
Best Producer
WINNER: Lou'ana – Moonlight Madness
Jawsh 685 –

'Savage Love (Laxed-Siren Beat)' 

Lepani –

In the Moment EP 

Producers: Lepani, Rory Noble, Ambian & Sleo, Devin Abrams
Phillip Fuemana Award – Most Promising Pacific Artist 
NZ On Air Radio Airplay Award
WINNER: Jawsh 685 x Jason Derulo – 'Savage Love (Laxed-Siren Beat) 
NZ On Air Streaming Award
WINNER: Jawsh 685 x Jason Derulo – 'Savage Love (Laxed-Siren Beat) 
SunPix People's Choice Award – Best Pacific Artist
Ministry for Pacific Peoples Special Recognition Award

Manukau Institute of Technology Lifetime Achievement Award
For more information: www.pacificmusicawards.org.nz