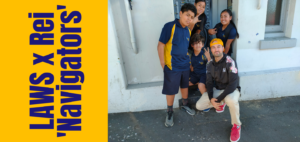 Introducing our second group of rangatahi from Mangere Central School 'LAWS'.
Award winning artist Rei jumped on board to lead an inspiring songwriting workshop and create a beat with the students to produce the original track 'Navigators'. It's an energetic track that celebrates the diverse backgrounds of all involved and pays tribute to the road that our ancestors have travelled.
For each round of the mentoring we are getting more in the groove and embracing the different talents that come through. This group were keen to throw down some dance moves so we made the best of a sunny Auckland day down in Nixon Park and created this awesome clip.
In partnership with Island Base and Creative Communities Auckland.