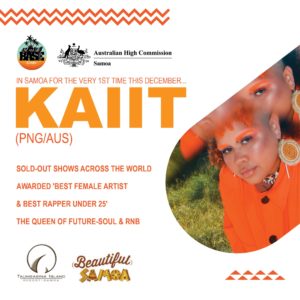 The Island Base team are doing it again! This time with up and coming neo soul singer-songwriter from Melbourne, KAIIT. With honeyed vocals, fierce rhymes and a bold eclectic style to match, 21-year-old KAIIT will be bringing her sweet sound of soul to Samoa this December. Born in Papua New Guinea, KAIIT bounced back and forth between Australia and her homeland as a child before her family eventually settled down in Melbourne. This will be her first time in Samoa.
Island Base Productions, with funding from the Australian High Commission Samoa will be taking KAIIT around Samoa in December to run workshops for women. She'll give a public performance at Home Café on the 11th of December, the day after White Ribbon Day on the 10th. They are also collaborating with the Ministry of Women, Community and Social Development in order to align to their priorities for female empowerment, and is getting some sponsorship from Samoa Tourism.
KAIIT will be involved in designing the workshops she'll deliver for the Samoan women. As well as a singer and songwriter, she also makes and sells jewellery, is a fashion designer and runs a dance crew. She also wants to record a track and film a music video with aspiring young female musicians while in Samoa and to work with them closely to help them "come out of their shell."
KEY DATES –
Saturday 7 December
Taumeasina Island Resort (Teaser event)
Monday 9 December and Tuesday 10 December
Female Artist workshops (venue to be confirmed)
Wednesday 11 December
Home Cafe and Bar – Full show featuring Base FM (NZ) DJs ORIKoL, Nathan James, Zane Tee and Jazz.
Click HERE to add yourself to the Facebook Event page.
This will be Island Base's third major event in Samoa, after bringing Sydney based R&B soul group Downtoplease – DTP to the island in June where they wrote and produced a track with aspiring young singers, rappers and musicians. They intend to bring at least six Pacific artists to Samoa a year from New Zealand and Australia to not only perform but offer their skills and expertise to young artists and school age youth.
Follow KAIIT:  Facebook | Instagram | YouTube | Spotify
Follow ISLAND BASE: Facebook | Instagram | YouTube | Website
CONTACT: to get involved.